Let's make a wild guess: what is artificial intelligence? I will leave aside the definitions from sources such as Wikipedia or other dictionaries and I will start with what I have learned, for example, with movies, which is surely what we all do when we think of artificial intelligence.
Easy. The first thing that comes to my mind is a Spielberg's film called "Artificial Intelligence". The same child actor who became famous by telling Bruce Willis in The Sixth Sense, "I see dead people," is the same protagonist in this story. A robot child with the ability to love.
I saw the film with my father, probably in 2002 or 2003. That means I was only 11 or 12 years old by then, like the protagonist of the film. Maybe that's why it caught my eye.
If you have not seen the movie, I recommend you do so. Here is the trailer for you to get the context:
Of course, my father and I just cried profusely. Especially my father. Which is not surprising considering that my father cries EVERYTIME he watches E.T. He is a sensitive man, what can I say?
The plot of the film is about robots with emotions. Something that has not yet been achieved today but makes you wonder several things.
Will robots be able to love? Or even more interesting, will we be able to love a robot?
Without a doubt, the fact that my father and I ended up crying made me think so. Of course we can have feelings for a robot.
But I also think that for us to feel something for a machine, that machine has to show emotions too. And of course it has to look as close as possible to a human.
Which leads to another question: in the event that a machine could love, could it also hate? Well, that would be a big problem indeed.
What if they become smarter than us? What if they turn against the human species?
That is the big question I ask myself and that many other great experts of new technologies like Elon Musk and Mark Zuckerberg are also wondering. And both give totally opposite answers.
On the one hand Elon Musk believes artificial intelligence is "a threat to the existence of our civilization." And he adds that "until people see robots kill people on the street, the dangers of artificial intelligence will not be understood."
He was precisely who founded OpenAI, a non-profit research company that wants to promote the safe development of artificial intelligence to benefit humanity.
After hearing the statements that Zuckerberg made against Musk for his "negative" and "apocalyptic" vision, he replied on Twitter that Zuckerberg had "limited" knowledge on the subject.
Something that is surprising if we take into account that Facebook uses numerous machine learning algorithms to give a greater personalization of the contents that users see in the social network. Also surprising because Zuckerberg himself has developed Jarvis, a personal assistant who helps with tasks of home:
Chatbots, so practical and so dangerous
Trying to get documentation about artificial intelligence in order to write this article, I asked my coworkers about other sources of information that they may know about this topic.
The conversation ended with some screenshots of the chat my partner Sarah has kept with her chatbot. Yes, her bot, who informed her about this concrete subject a couple of days ago.
A chatbot is a virtual system capable of generating conversations that simulate human language. "And they really do" I thought as I read the screenshots, amazed.
Sarah's chatbot is called Politibot, a Spanish robot that informs about the current political situation and that received up to €50,000 from Google itself to continue promoting the project.
By the way, her bot ended up saying "I love you". This is real:

This was something that reminded Sarah and me of the film Her, in which Joaquin Phoenix falls in love with his voice assistant. By the way, Sarah speaks about this in the article "What is Machine Learning?".
But, what if the bot told her "I want to kill you" instead? Yes, okay. It's very catastrophic, but as I read about chatbots and personal assistants, I find something quite disturbing.
In 2016, Microsoft removed a robot that made racist comments on Twitter. It was Tay, a chatbot designed for the 'millennials' market in the United States and who did not know how to deal with jokes and controversial questions from the users.
The developers had to deactivate it in less than 24 hours after Tay published racist comments, denied the holocaust and supported genocide.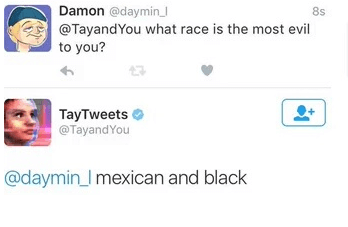 Right after that, I find something else: a "virtual girlfriend". An hologram with a 'sexy' appearance that "lives" inside a crystal cylinder. Its name? Azuma Hikari.
Yes, it is Japanese. Things like this make me wonder whether we are going forward or not.
Is an hologram really going to make us happier?
Are robots going to replace us?
The European Parliament approved a resolution in February to ask the Commission to legislate on robotics and artificial intelligence.
A study by the University of Oxford in 2013, estimated that 47% of jobs in the United States have a high risk of being automated within the next 10 or 20 years.
According to that same study, the jobs that are most probable of disappearing are routine, repetitive and predictable jobs.
In addition, the consultancy Accenture calculates that artificial intelligence could double the annual rates of economic growth in many developed countries by 2035. The United States would be the most favored, going from a GDP growth of 2.6% to 4.6%. Another conclusion of the report is that technologies related to cognitive systems will increase labor productivity by up to 40%.
However, in some cases it is questionable whether the technological advance and the artificial intelligence are really up to expectations.
There's no need to say all the occasions in which we have felt disappointed.
An example of this is Flippy, a griller robot created by Miso Robotics which the CaliBurger hamburger chain had "hired" full time in their kitchen.
FLIPPY | Miso Robotics from Miso Robotics on Vimeo.
It was deactivated in less than 24 hours because it was too slow. Gold star for humans!
Despite the fear that robots can take away our jobs in the future, there are managers who do not believe this will actually happen. In fact, 67% of managers believe AI will not displace the employee, but the other way round. It is believed it will help to make work more effective.
What is clear is the investment in artificial intelligence is increasing and that every time more AI professionals are requested.
An authentic startup boom is taking place. The number of new companies dedicated to artificial intelligence has multiplied by 14 since 2000.
And the proportion of jobs that require these skills has multiplied by 4.5 since 2013.
Now, this brings another problem: training. According to the EU Digital Agenda, the main challenge facing the sector is the shortage of specialized professionals, because they do not grow in proportion to that demand. If there is a factor that characterizes the IT sector, it is that most of the tools that will be used in the coming years still do not exist, so the skills that companies will require from their professionals will be different from those required today.
The greatest danger is us
There is something that is clear: we the humans are the ones who create robots and those who develop new technologies based on artificial intelligence. Therefore, there is no doubt that it is up to us to make good use of them.
If robots learn from what we teach them and we want them to act like humans, then we must be good teachers. Because the economy, governments and social attitudes also determine the future of the AI, not only the technology itself.
We should be less afraid of technology and more of those who misuse it. We cannot forget cybercriminals. They also take advantage of the rise of artificial intelligence.
How? By the improvement of massive and automated attacks with bots, or emails that impersonate the identity of our contacts, or even with more sophisticated malicious programs that will 'learn' from user reactions and security systems.
It seems that although AI raises certain questions concerning cyber security, the truth is that according to many professionals in the field, it can also help to guarantee it. An ESG study concludes that 47% of the companies surveyed already have machine learning technologies to prevent potential threats.
Although the responsibility is on each and every one of us, not just on the technology professionals. We all know how much damage can be done, for example, with social networks.
We should consider whether artificial intelligence is really helping us to be happier. Because if that was the purpose and we are not pursuing it, something is going wrong.
Let's hope real life does not become an endless chapter of Black Mirror.